Aloha to Zen:
A Book by Fern Levack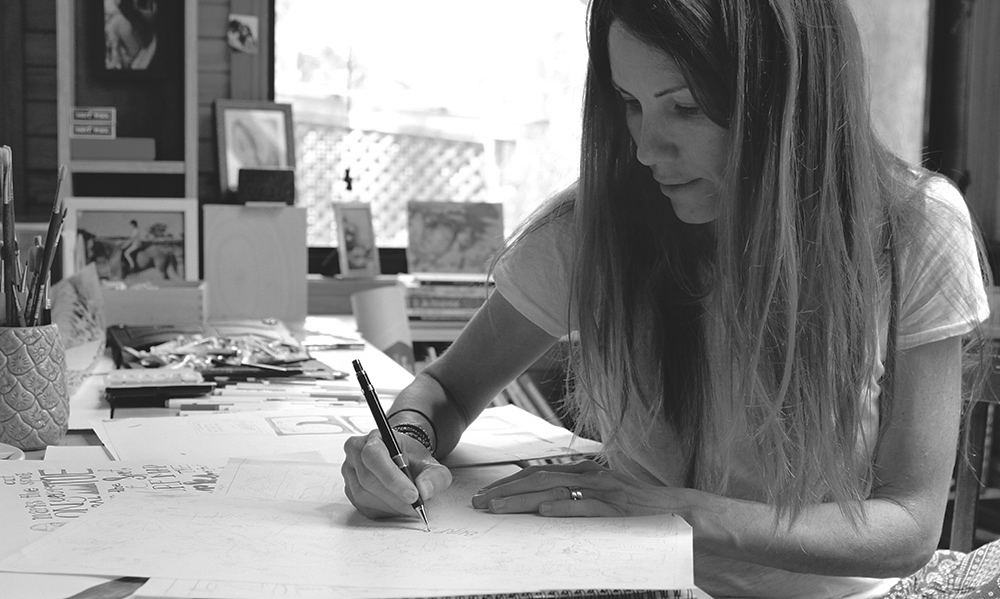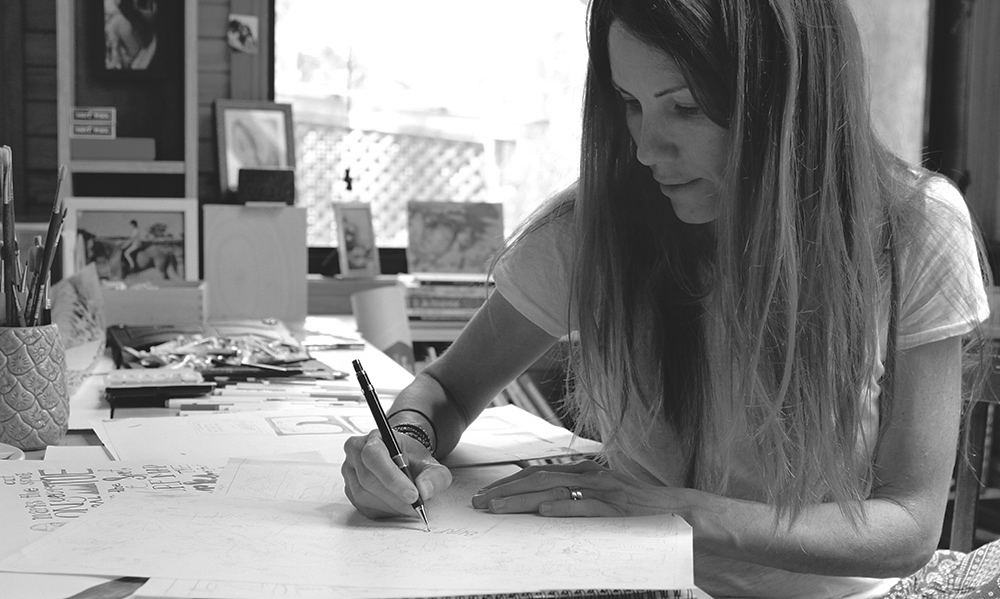 Interview by Glenn Sakamoto
Fern Levack is an Australian surfer/artist who wrote and illustrated Aloha to Zen – art surf encyclopedia, part spiritual experience. Levack's whimsical illustrations will draw you into the culture of surfing like no other. This is a must have for any surfer – young or old. We spoke with Fern to learn more.
What inspired you to write Aloha to Zen?
A lifetime of great coastal adventures with my husband from NSW north and south coast to Bondi Beach. Hawaii North Shore to Southern California, Japan and France. Living in California and being homesick for Australia. I started the book just as we'd moved to Leucadia in North San Diego and was loving the whole relaxed vibe – not to mention my husbands total obsession with California rubbed off on me – but I was missing Australia for a whole lot of reasons, yet at the same time totally enjoying what a vibrant and rich surf culture California is blessed with. I guess the book just came about as somewhere to channel my thoughts and cosmic ponderings. I'm not one for words or photos so a blog wasn't the answer. I felt I had some pretty insightful and fun thoughts on surf culture others might enjoy.
How important is surfing in your life?
I love that surfing strengthens a strong connection with nature – a view espoused in Aloha to Zen. It's all about the journey, arriving at your favorite spot, living simply, a seeking for something new, the great meal that comes after a surf – shave ice in Haleiwa, a mung bean burger in Byron, wet dogs, sneaky stingrays – all these small encounters make a life involved with surfing so special. The pre-surf adventure – the track through the bush to Aussie Pipe, through a field of grazing cows in Bali, down the steep cliff shared with nudists at Blacks, these all add up to an epic way to spend a life – you are not driving in your car to a gym and going inside to run on a treadmill! You are encountering sea eagles and dolphins, understanding currents and wind direction – seeing the sun rise and set, taking a set on the head! Its really fantastic when you think about it!
Where did you learn to draw?
I didn't! I had a family that just drew a lot, no one was 'trained' but it was always a big part of what we did together – so I never got the feeling you had to be 'good' at it. It was just a means of self expression the way some families play music together or surf together. Later on, I did a degree in fashion and textile design and got quite good at '80s style elongated women! I was always into comics as a kid – furiously devouring Phantom comics and my all time favorite The Fabulous Furry Freak Brothers. Looking back now, that's obviously (at the tender age of 7 or 8) where my joy in railing against the establishment and right wing politics may have first appeared. I also obsessed over books on frogs, horses, birds and insects and dogs, and spent literally hours drawing animals as a kid. At one stage, I drew all over my bedroom wall trying to perfect those bumpy bits in a horses leg – luckily I had a super laid back mum! I think if you love something, you can teach yourself.
Why is drawing by hand an important means of expression?
Personally I get more joy from products made by hand. Be it a hand shaped surfboard as opposed to a factory made one, or a short run of screen printed tee shirts by a local surf store as opposed to one of a billion from a mass market surf brand. There is a definite growing desire for objects made from scratch – with an attention to detail and quality.
They are rare, collectible, artisanal, not disposable – and this kinda links with all the crap being thrown in the ocean. What does that says about us as humans when we use something once and throw it away without a thought for where it came from or where its going?
There's also an element of nostalgia in there, too. I feel that hand drawn or hand made objects can bring joy to a person the way maybe a computerized version cannot. It takes us back to a friendlier, happier era when the world was a little simpler and our rubbish bins weren't so huge.
What do you hope your reader will gain from reading Aloha to Zen?
A refreshing moment of sanity and fun – a break from the monotony of the mass market, over commercialized machine the surf industry sometimes feels like. As one friend described the experience of reading Aloha to Zen – you will lose yourself and come out the other side transformed!
It has an alternative take on environmental concerns that is both more straightforward and to the point, and yet funner and lighter than some of the preachy stuff that gets around. There are many layers to this book – you can take from it however many layers you want. The whole second half gets a little deeper & darker (thus the darker paper stock!) and is very much influenced by the 'way out', spiritual development publications of the seventies I used to read in my spare time as a kid!
Then theres a whole layer of surf history kinda semi-hidden. There's references to windsurfing, kneeboarding, v bottoms, no leash, paddle camping, Morning of the Earth, olos, paipios, alaias, surf swaps etc. Then theres a layer of great haircuts! Living in Leucadia was the perfect place for hair/beard/moustache inspiration! Most of the characters in the book are boys – they are funner to draw and no one hassles you later, the way people do if you draw girls (even though they aren't real) with 'why are they so skinny!' no one worries if you draw a boy with skinny legs!

The book is overall a holistic look at surfing and how it can teach us some pretty great life lessons! I really tried to keep any reference to brands or big names outta there. I find that aspect to surfing quite boring. I really enjoy the new magazines and websites dedicated to the joy & fun of surfing, the characters rather than the pros and that tie in a respect and concern for the ocean. without which we couldn't immerse ourselves in this beautiful world!
What's next for Fern Levack?
Well, I am really enjoying creating a series of embroidered cushions and wall hangings (you can see a few on my website) featuring the great (according to me) personalities and mantras of surfing. So far I have completed the Gerry Cushion, the Nat Cushion, the Keep the Country Country Cushion along with a few others. In the works are homages to Rell Sunn, The Duke, Michael Peterson and Bobby Owens. I choose my favourite phase of their life story and go crazy embroidering it into a pretty radical cushion. A 3D version of the book I guess. I also create fine art posters along the lines of the Aloha to Zen philosophy. I think a little exhibition somewhere in California with some fine Australian beers will be in order shortly!
Learn more about Fern Levack and her work or to order her book, click here. Aloha to Zen is available in the US at Almond Surfboards in Newport Beach, Surfy Surfy in Leucadia, Deus ex Machina and Firefly in Venice. Photos by Simon Perini.
(Editors note: We love Aloha to Zen and give it the highest possible rating. In fact, my wife, a non-surfer, told me that this would be the only book on surfing she would ever read.)